World leaders in designing and manufacturing precision rotary tooling and the certifications to prove it.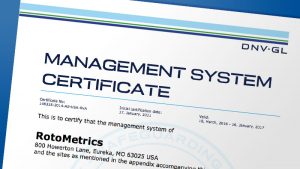 We are proud to showcase third-party validation of the Power of Human Precision thanks to our I.S.O. and L.I.F.E. Certifications.
ANAB ISO 14001 Certificate
RotoMetrics' ISO 14001 certification shows our commitment to maintain a clean environment. The scope of this certification extends to all of our manufacturing facilities worldwide. RotoMetrics is the first company in the rotary tooling industry to achieve ISO 14001 certification.

Download ANAB ISO 14001 Certificate
ISO 9001:2008 Certificate
RotoMetrics' ISO 9001:2008 certifications mean that our accurate, durable, dependable products pass the most stringent in-house quality checks before they leave the building, so you can get your job up and running as soon as your tooling arrives.

Download ISO 9001:2008 Certificate
We stand by our Quality and Environmental Performance Policy:
RotoMetrics is committed to providing the highest quality products to its customers' specifications in the shortest period of time possible from receipt of order to delivery. The company is also committed to ensuring that this is accomplished in an environmentally responsible manner by complying with and striving to surpass all environmental requirements. Further, the company has established objectives that will ensure continual improvement in customer satisfaction, environmental performance, and prevention of pollution.
Contact us at quality@rotometrics.com