RotoMetrics – Leading the Industry for More than 50 Years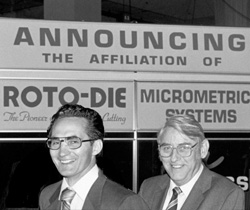 RotoMetrics is recognized as the pioneering name in the rotary tooling industry, and a global partner for the converting industry with unmatched local manufacturing, product development expertise and customer service.
Established in 1957 in the St. Louis, Missouri area, RotoMetrics expanded initially in the Americas in the 1980s with facilities in Virginia and Canada. Moving quickly to respond to global customer demand, the company established manufacturing in the United Kingdom and Australia. In 2010, RotoMetrics launched flexible die manufacturing at the industry's most modern factory in Bangkok, Thailand.
The company has global headquarters near St. Louis, Missouri, European headquarters in Aldridge, UK, and major manufacturing operations on 5 continents with a global sales and service network.