Minimizing Challenges and Maximizing Uptime
RotoRepel™ leads to happier press operators and less press frustration. On a flexible or solid die, RotoRepel™ pays for itself in the first use. Learn more about how RotoRepel™ maximizes your press' performance by navigating through the menus below.
Maximizing Press Performance
Our exclusive line of RotoRepel™ treatments is going to change what you expect from a nonstick coating. RotoRepel™ is now also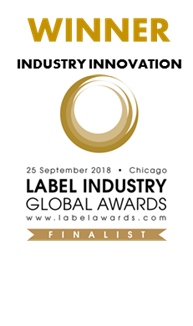 available in our newest formulation, RotoRepel™ Rx. RotoMetrics recently won the Label Industry Global Award for Innovation for the development of RotoRepel™ and RotoRepel™ Rx.
The formulation for RotoRepel™ Rx has undergone a US Food and Drug Administration regulatory compliance review, migration testing, and toxicological safety assessment. RotoRepel™ Rx is safe for intended use in conversion of parts, devices and labels. RotoRepel™ Rx is filed with the US Food and Drug Administration under Master File for Devices (MAF) #2975. RotoRepel™ Rx has been reviewed by the US FDA and is compliant with US FDA food contact requirements. RotoRepel™ Rx has a Food Contact Notification (FCN).
Available for solid and flexible dies, both RotoRepel™ and RotoRepel™ Rx, offer superior performance and longevity.
With RotoRepel™, gone are the days of chipping and flaking, commonly associated with other nonstick coatings. RotoRepel™ will not flake or chip and its durability is unmatched. Cutting blades wear out before RotoRepel™ does.
Our customers are telling us that not only is RotoRepel™ the best no-stick treatment on the market today, but RotoRepel™ offers expanded benefits that improve overall die and press performance, including:
Significant reduction in number of press shutdowns
Many customers reporting saving at least an hour per shift
Less die damage due to less handling
RotoRepel™ dies are easier to clean
Fewer missing labels and a reduction in blocking on finished rolls in rewind
Reduction of adhesive buildup – on all adhesive types
Significant reduction in static at the die station
Presses run faster